Your dog or cat is part of your family, so it only makes sense you would give them the same quality of healthcare that you give yourself. Unfortunately few of us do. While we fill our diets with healthy whole foods and practice yoga or undergo massage therapy, poor Rover is eating processed kibble and going to the doctor less than once a year.
Pets are some of the most over medicated creatures on this planet, and that's only the beginning of the ways that conventional pet health care can sometimes do more harm than good. While conventional vets do an excellent job taking care of your pet when he's suffering from an emergency, the truth is that traditional pet care practices are often lacking in regards to total pet wellness.
If you're petrified that your pooch needs some specialty care with a more natural bend to start feeling better, you're in luck. There are plenty of forms of alternative medicine that go farther than traditional approaches to get your pet feeling better, faster. The time has come to challenge the system of conventional pet medicine and learn to treat your pet the way that nature intended.
What Does Alternative Holistic Pet Care Really Mean?
Alternative holistic pet care can be simply defined as looking beyond synthetic drugs for the solutions for your pet's problems. Rather than feeding small puppies low grade foods their entire lives and treating each individual medical problem that comes up, alternative health care instead looks to maintain wellness through a healthy, natural lifestyle that sets your pet up to be the healthiest he can be. Rather than treating the illness, alternative care is intentional in maintaining overall health.
Holistic Care
By definition, holistic pet care is the philosophical approach to health that sees the entire body as greater than the sum of its parts. This means that in order to treat a specific condition (like losing fur); a holistic vet focuses on the overall wellness of an animal. The techniques for achieving this wellness tend to be simple, and focus on proving your pet with a healthy, balanced diet, keeping them away from artificial products, additives and chemicals (especially toxic household cleaning products) and giving your pet forms of stress relieving therapy like plenty of exercise and possibly even aromatherapy, massage therapy, and acupuncture. When put together, the theory of holistic care goes the factors of a healthy diet, lack of exposure to chemicals and reduced emotional stress causes your pet's immune system to help its body naturally heal itself and be fortified against future diseases.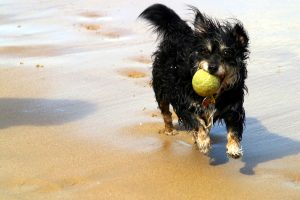 3 Ways to Start Holistic Healthcare For Your Pet
If you're ready to reject the promises of the newest veterinary medicine and delve into some alternative healthcare methods for your pet, here are some ways that you can get started.
1. Natural Movement and Treatment
Animals love nothing more than to run, jump and play all day long, so it's no surprise that many of them eventually start to develop chronic pain and stiffness. To keep your pet in top shape without succumbing to expensive surgery, try out these natural healing methods instead.
2. Healthy, Holistic Diet
"You are what you eat", Anthelme Brillat-Savarin told us, and this phrase is even more true for your pet. An essential step in natural holistic pet care is rejecting the overly processed pet foods that are available for dogs and cats and turning instead to fresh, organic and preferably raw foods as soon as you can. In many ways, this is the most important change you can make for the health of your pet. Most manufactured forms of dog and cat food are filled with preservatives and grain products that don't belong anywhere close to your beloved pet. A large percentage of these ingredients are highly processed, making them a cheap way to keep your pet full. Unfortunately, dogs and cats are carnivores that have digestive systems that can't cope with grains. By switching to a meat filled, possibly raw diet, you'll be feeding your pet what it was designed to handle.
If raw food isn't a reality right now, you can still feed your friend a healthier diet than what conventional pet food contains. Some of the top brands of healthy, holistic dog food are listed below.
Related article: Top 24 Best Organic Dog Foods (And What to Know Before Buying)
Take the time also to give your pets the highest quality water you can. Chlorine and fluoride are bad news for pets, so attach a water filter to your outside faucet to ensure the water that your creature drinks is the same quality you would serve your family.

3. Natural Medicine
If your pet is suffering from a real problem, there is plenty you can do at home before an expert is essential. Many pet issues can be treated with natural remedies that have been followed for thousands of years without fail. Below are some top techniques for maintaining wellness for your pet right at home.
Note: These techniques are not substitutes for the advice of a medical professional. If you have concerns about the health of your pet, see a vet immediately.
Resources For Holistic Pet Care
Looking for more information about the best ways to take care of your pet? These books will start you on the right course.
If you're interested in utilizing the services of a holistic vet simply visit the American Holistic Veterinary Medical Association website to find a vet near you.
Conclusion
Your pet deserves to live the best life possible, and that means taking the time to treat their illnesses from a holistic medicine perspective. If you care about the well-being of the creatures in your family, take the time to learn some alternative medicine practices that will keep your pet healthy and happy. An all-natural, whole foods diet, plenty of healthy movement and occasional treatments from healing herbs will go a long way towards keeping your furry family member healthy for years to come.
Was this helpful? Get plenty of natural wellness reads we think you'd like.
Join now
.